The best team did win today, no question.
Oranj played defensively to congest Spain. Their tactics, while not admirable, were effective for most of the game. Spain did not score until the 116th minute. In what is being called an "ugly game," the Dutch slid into Spanish players to trip them up and break their strides (literally). In one of the most egregious fouls, a Spanish player (Esquire-cover model, Xabi Alonso) got the wind knocked out of him when a Dutch player side-thrusted him in the chest. In all, the Dutch players got nine yellow cards, with one player getting expelled in overtime. Spain did not play without their share of yellows either--they got five.
When Andres Iniesta scored his goal, he ripped off his shirt, revealing an undershirt with the name "Dani Jarque" scrawled on it. A girlfriend, I assumed. No, Dani Jarque was Iniesta's (male) footballer friend who recently died of a heart attack. The shirt read, in Spanish: "Dani Jarque, you are always with us."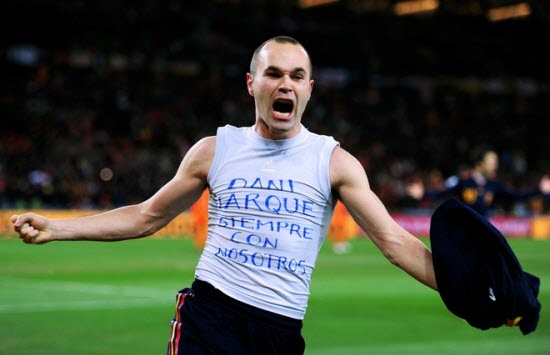 Iniesta is five feet seven with, possibly, a very large heart, in addition to magnificent soccer ability. (Like I said, "
possibly
." My research has yet to reveal footballers of outstanding character, although a BBC blogger suggests that Iniesta is refreshingly different from his counterparts (
blogs/jonathanstevenson
).
Nonetheless, it was a sweet moment. There were more moving Spanish moments following the final whistle blow when cameras shot to a sobbing Iker Castillas, the goal-keeper and captain of the Spanish team, a/k/a über-hunk to many women (and probably many men too). A bunch of Spanish players came racing over to hold him. First on site was Sergio Busquets. The captain seemed to let himself go in his arms. There was no shame in it.
Not surprisingly these displays of affection are common among the European teams with olive oil diets, and the Latino teams. They give bear hugs, pull their faces close to each other, and kiss each other in a familiar way.
Here's to you, Spain, a team with finesse, class, speed, strength, and a beautiful human side, at least on this day.